Bbc Scotland High School Documentary Assignment
The original plan was simply to stake out the house that night and then return with a warrant in the relative safety of daylight the following morning to search it. But no sooner had we entered the drive than two large cars suddenly pulled in right behind us, effectively blocking us in. Seemingly, they came out of nowhere and it was far too dark to see who was inside.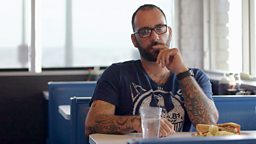 Very quietly, he reached for his gun and body armour — and instructed me to switch off the camera.
By this point, I'd been filming Christian for around a week and had never once seen him nervous ...until now. Very quietly, he reached for his gun and body armour — and instructed me to switch off the camera. Not for a minute had I anticipated a situation like this; I was still dressed for the beach!
We soon discovered that it was only the fugitive's brother, returning home with some of his friends. However, there was no easy way for us to get out of the drive without confronting him, so Christian used some good old-fashioned Scottish banter and a flash of his warrant to diffuse the situation.
He then entered the house while I remained outside, returning a few anxious minutes later — but without the fugitive, who wasn't home. That we made it through such a nervous encounter at all was testament to Christian being extremely good at his job.
In the end, the fugitive ended up getting arrested by the police in a hotel back in Virginia Beach.
The life of a Scottish bounty hunter
It was all just a little bit surreal. I couldn't believe – and still can't! – that this 'bad boy' from Brechin had turned his life around so completely and was now running about America with a gun, arresting people.

The Scottish Bounty Hunter is a film about Christian's unusual and fascinating life: the people he works with; the scrapes he gets into; the truly unique relationships he develops with some of his 'clients'; his connection to some heartbreaking and tragic stories about drug addiction and broken families.
IKEA has hit the news recently with the death of its frugal founder, multi-billionaire Ingvar Kamprad. With perfect timing, a new three-part OU / BBC documentary, Flatpack Empire, begins at 9pm on BBC2 this Tuesday (6 February); airing for the following two weeks as well.
Undoubtedly one of the world's most successful, enigmatic and recognisable global brands, IKEA enjoyed a turnover of more than £34 billion in 2016 and nearly 900 million people in 49 countries visited its stores last year. Now, for the first time in the company's 70-year history, the famously secretive Swedish furniture retailer has opened its doors to the television cameras with exclusive access to stores, warehouses, test labs and design studios.
The daily challenges of designers, product developers, store managers and suppliers were filmed around the world, from Sweden to India to China, throughout 2017. The journey of new products, from the development headquarters in Älmhult, Sweden, is followed through prototyping, testing, manufacturing and approval.
There is an opportunity to explore how IKEA's catalogue is created – where thousands of products are photographed in extraordinary detail in Europe's largest photographic studio; see how new staff get to grips with a unique set of 'culture and values' that has guided the company for seven decades; and follow a massive global expansion programme into India, a country yet untouched by the Swedish flatpack revolution.
Dr Fiona Harris, Senior Lecturer in Management, and Julian Cooper, Associate Lecturer in Business, Creativity and Marketing, were the two academic consultants from The Open University Business School who worked on Flatpack Empire.
You can find out more about the TV series and also read articles uncovering the secrets behind flatpack, brand names and everyday design via the OpenLearn website.